Last Monday the time had come: Swarovski Optik Germany invited the hunting trade to a roadshow in the 4-star Panorama Hotel Waldenburg, close to Schwäbisch Hall in Germany. The invitation was extended to at least 30 specialist dealers and so naturally we also went along to watch the latest product innovations from the Swarovski and Kahles brands being presented in detail, allowing us to become acquainted with the most important product features.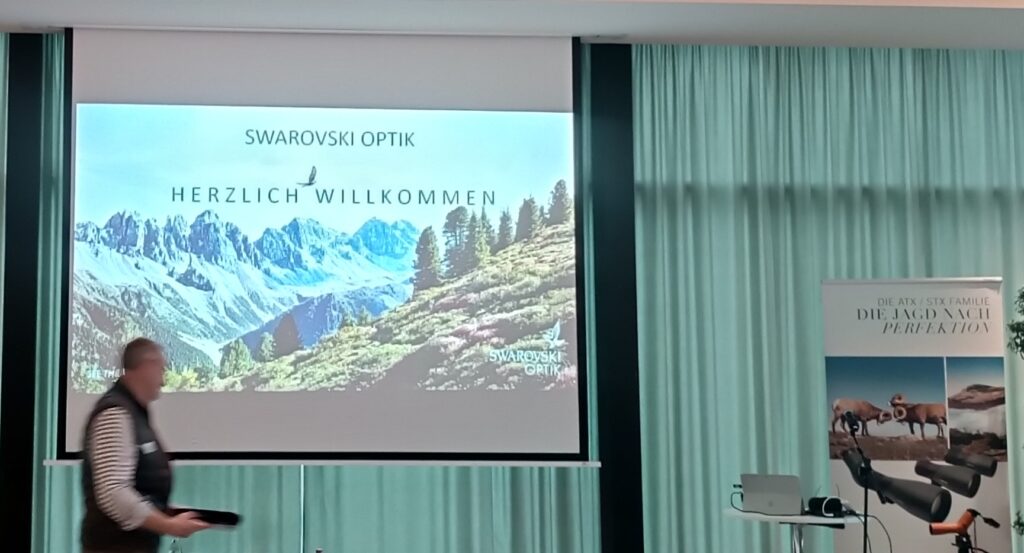 Of course, we want to share this experience with you. The following products were presented: Swarovski  Z8i+ series of rifle scopes, Kahles K18i-2 rifle scope , Kahles TI+ thermal cameras, Swarovski  EL Range 32 binoculars and the new universal  VPA 2 smartphone adapter including adapter rings.
Let us take a look at the products in detail:
Swarovski Z8i+ riflescopes:
Especially designed for the driven hunt or stalking to ensure the widest possible field of view and excellent viewing comfort.

Available in two versions and with different reticles. 0.75-6×20 and 1-8×24. Both models offer optimal viewing comfort thanks to a large eyepiece diameter of more than 51mm. As soon as you take position with your weapon you can immediately locate the target. The 0.75 models offer a field of view of max. 64.4 m/100 meters. The models with the 1-8x magnification offer a field of view of up to 50 metres. Two throw levers are included for quick magnification changes. You can choose to fit either the black or orange coloured lever. The models with the 4A-IF reticle are particularly interesting. In addition to the classic 4A reticle, you can also superimpose an illuminated ring over the centre. This helps with target acquisition and determining the correct lead distance.
KAHLES K18i-2 1-8×24: This rifle scope was developed in collaboration with leading sports shooters from the IPSC and 3-gun disciplines.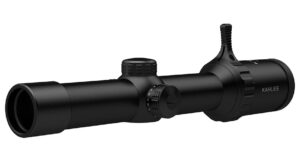 The special 3GR reticle with several aiming points allows you to stay on the spot at different distances without needing to make any elevation adjustment. In addition, the customer also benefits from a stable 34mm centre tube and the large 50m field of view at 100m distance. It also features a fantastic view through the large eye box. This model also comes with two different throw levers, although in this case they do not differ in colour but in size.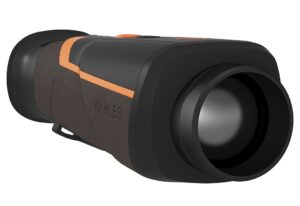 KAHLES TI+ Thermal Cameras: This new series of thermal imaging cameras focuses on the essentials of hunting. All the necessary settings can be made with just two buttons. A Wi-Fi connection, photo or video mode have been deliberately omitted to keep its operation as simple as possible. The new VOx sensor delivers high 640 x 512 pixel resolution with a pixel size of 12 microns and a NETD of < 20 mK. This ensures images are rich in detail and with excellent contrast. The user can choose between Black Hot, White Hot, and Red Only colour modes. The special housing design prevents the device from rolling. An automatic standby switch, triggered by a tilt and motion sensor, protects the battery and prevents the face from being illuminated when the device is removed from the eye. Available with a 35mm lens for a long range of up to 2,479 metres, or a 18mm lens for a wide field of view of 44m/100m.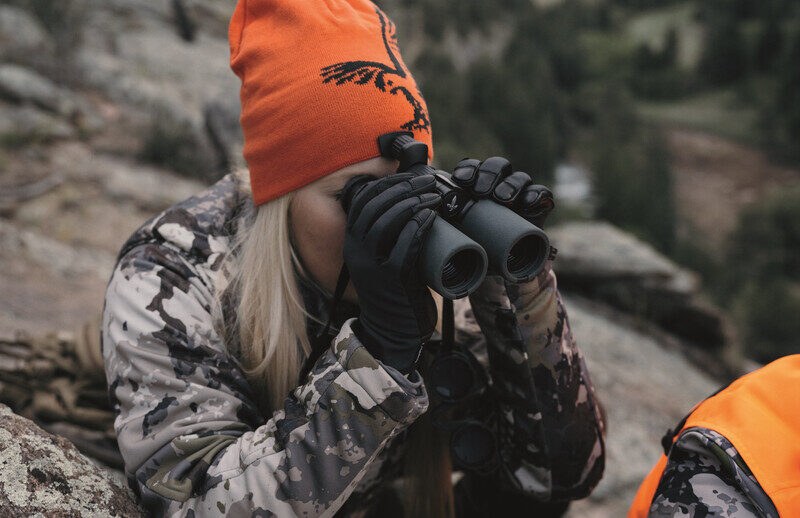 These new binoculars with rangefinder especially surprised us with its low weight of less than 700 grammes. They are available in 8×32 and 10×32. Besides, the design is also an essential feature of this binoculars. The narrow connecting bridge and the omission of a front connecting bridge, as with the 42 models, make it extremely easy to use, even with large hands or gloves. Another advantage is the ability to freely assign functions to the two operating keys. This makes them much easier to use, especially for left-handed users. Of course, this model also offers the familiar tracking assistant, which helps, for example, when narrowing down the target area. The binoculars can be configured to your personal requirements using the EL RANGE configurator app and offer a measuring range of 9 – 1,500 metres. We would especially recommend these to mountain hunters, or hunters who want to keep their equipment as light as possible and do not need to use the binoculars right up till the last light fades. The optional FRR forehead rest increases image stability, especially after a strenuous climb.
Last but not least, we have something for DIGISCOPING fans: Swarovski has updated its universal adapter and presented the VPA 2.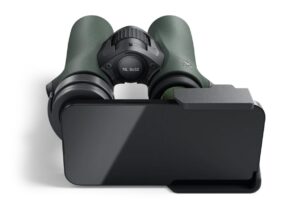 With its generous dimensions and prominent lens units, it is now also suitable for modern smartphones. In addition, its operation has been significantly simplified and the mechanics improved. The adjustment device for selecting the right lens is now mechanically more stable and the adapter ring is much easier to attach. There are three different clamp adapters that can be used for different binoculars by means of inner rings. These must be ordered as an optional extra.
CA-Bs for all CL series binoculars (Companion, Nomad, Mountain, Curio and Pocket)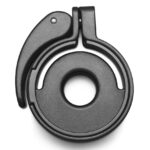 CA-B for all EL, EL Range, NL Pure and SLC series of binoculars and the BTX eyepiece module
CA-S for ATX/STX, ATC/STC, ATS/STS series spotting scopes and the STR spotting scope.
It is not recommended for the CTS.
These new products will become fully available during October. Secure your new model soon, we expect supply bottlenecks when deliveries begin.