This story is about the kestrels at our company headquarters, the Kreutzer family from the LBV (the regional organisation for the protection of birds), and Andrea Skorpil, who raises orphan birds in our region on a voluntary basis.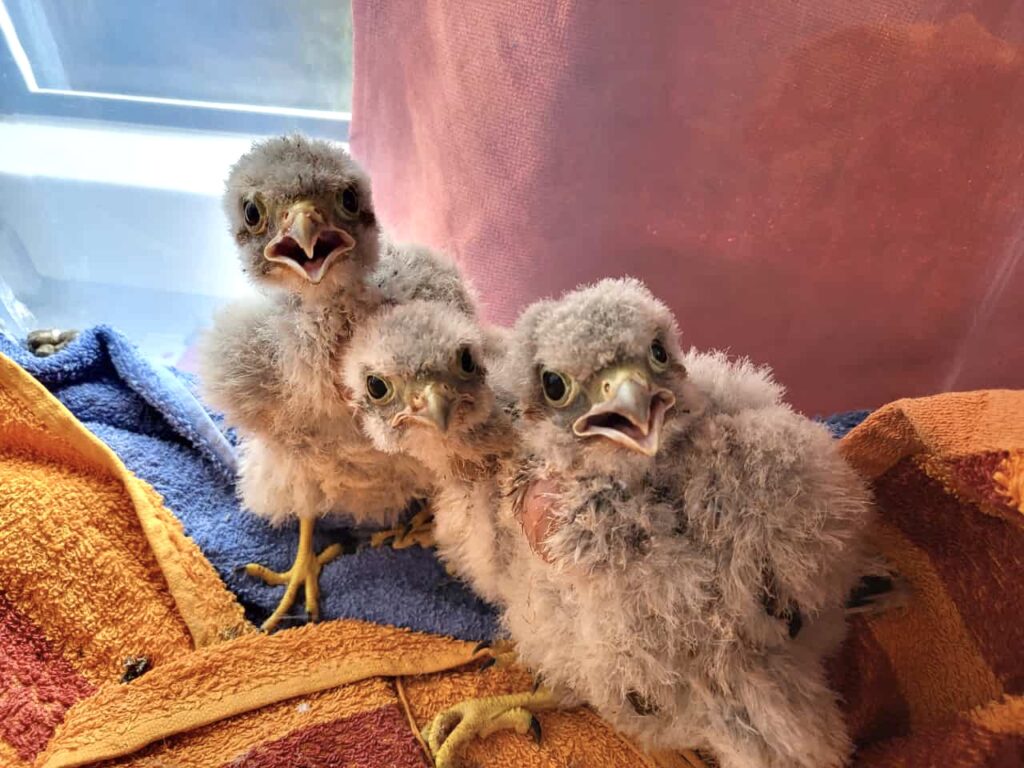 You probably already know that we sell binoculars and other optics to observe the wonderful natural world that is all around us. But we are also enthusiastic nature watchers ourselves. That's why a falcon nesting box hangs high up on one of our warehouse buildings.
We have been looking forward to the annual arrival of "our" kestrels for many years now. We watch how they move into their new homes, how they busily search for food, and how they raise their young. Their watchful eyes, their grey shimmering heads, and their brownish plume of feathers – our colleagues continually find themselves pausing during their working day to marvel at these graceful birds. We also observe them with our binoculars.
Somehow the kestrels simply belong to us. And we are happy every year when the young birds go, or rather fly, their own way.
But this year, everything was different. Here you can read about the dramatic experiences of our falcon family, which has really touched us all.
A normal day?
Actually, it had been a completely normal day, that is until we noticed a hissing sound coming from in front of one of the warehouse buildings. We kept on working. But what was going on? One of the kestrels was jumping up and down between the pallets, spreading its wings, trying desperately to fly, but somehow it could not get airborne. After several unsuccessful attempts, he gave up and took himself to a quiet corner. He did not back away, even as we got closer, instead papa kestrel looked at us with his large black eyes.
Our colleague, who always has his binoculars to hand, could see that something was not quite right with him, and immediately called the Landesbund für Vogelschutz (LBV), the regional organisation for the protection of birds, which has a local group here in Landsberg. There, dedicated bird lovers volunteer for nature conservation projects.
After a short time, the Kreutzer family from the LBV appeared and, working together, we managed to catch the exhausted bird. Mr and Mrs Kreutzer took him to the vet, but the diagnosis was grim: his wings were fine, but a piece of his beak was missing and he had been blinded in one eye. Papa kestrel had probably flown into a window pane or something similar. After leaving the vet, his journey took him to a falconer, who housed him in an aviary. We all hoped that when he was healthy again, he would be able to return to his little family.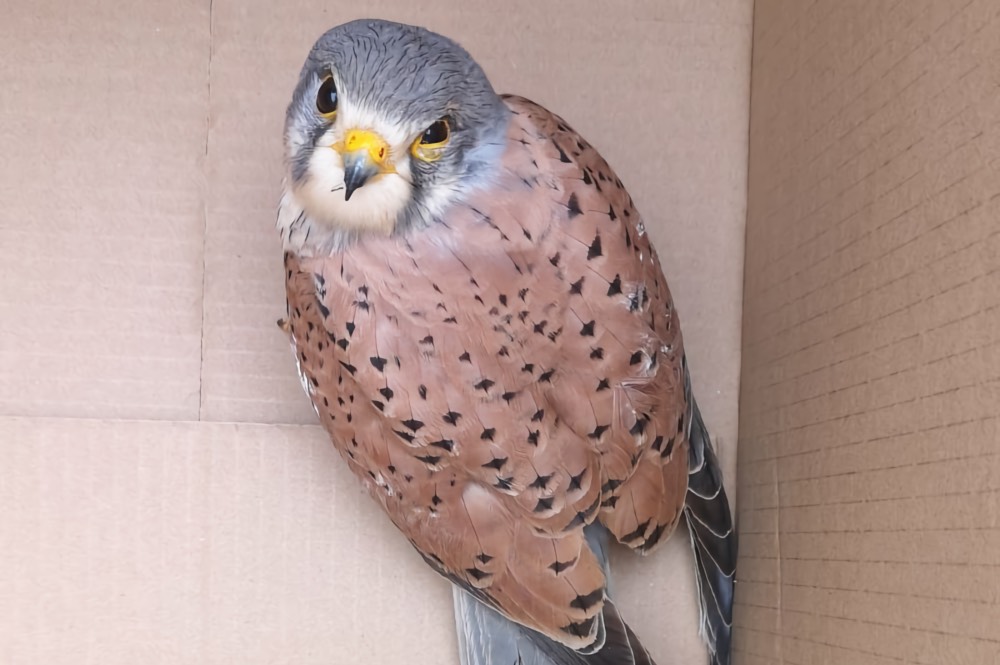 The cries of the young chicks
In the meantime, mama kestrel struggled to rear her four chicks. She bravely hunted for food for their hungry mouths. She was constantly on the move which was a mammoth task since her partner was missing.
A few days later we heard the cries of the young birds but all was strangely quiet. Again, something was clearly not quite right. But what had happened? Another call to the Kreutzer family brought the sad truth to light. Mama kestrel had probably realised that she could not raise the brood alone and she had left the nest.
This information was immediately followed by the next round of sad news: papa kestrel had not made it – he had probably died of internal bleeding. We were all very upset – and the abandoned orphans were sitting alone in their nest.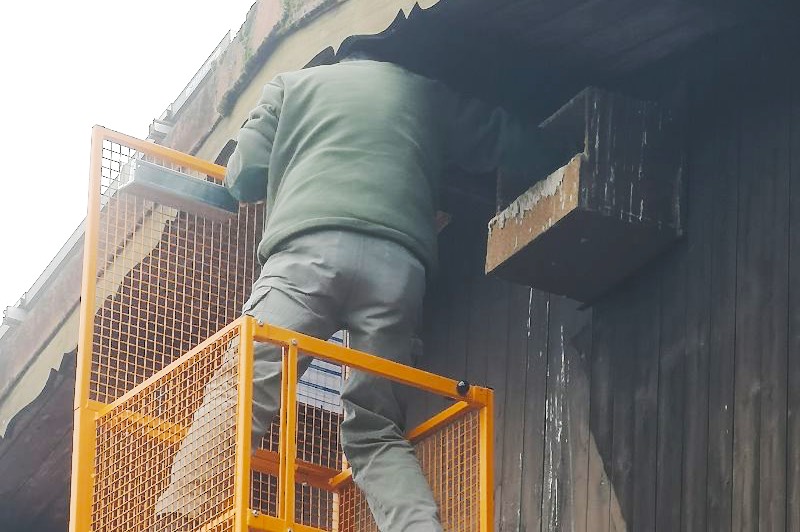 Ensuring that all was well with the baby birds
Once more, the birds needed our help. Our warehouse team used their technology (their forklift truck) to help the Kreutzer family get closer to the box, which was at a dizzy height, in order to save the baby birds. They brought them to Andrea Skorpil, who is known in our region for her voluntary work with baby animals, especially baby birds. They would find their new home with her. Unfortunately, one of the brood died the same evening. It had become too weak after several days without food.
The other baby birds are healthy and are being lovingly cared for by Andrea Skorpil until they are big and strong. Then they will be released into the wild.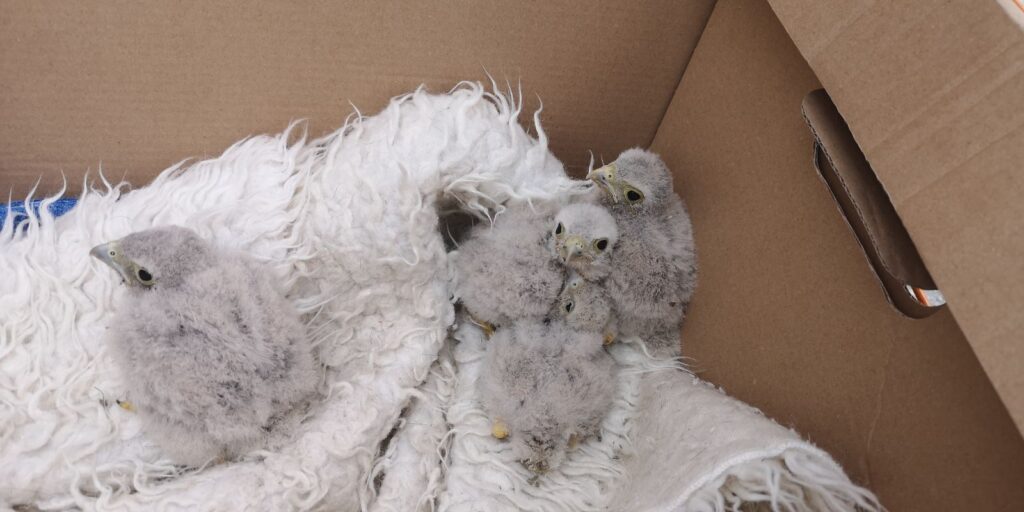 A donation for the bird carer
Bird care costs money, and Andrea Skorpil works on a voluntary basis and finances her work from her own pocket. That is why we have collected private donations from our company's employees. The management contributed by matching the donations already collected, and we handed the money over to Andrea Skorpil, who has set up an emergency telephone hotline in the region.
By the way: the devoted bird expert and artist runs her own YouTube channel "Bird and Livestock" for wild bird care and an Instagram channel. Are you interested in the topic? We would then be delighted if you followed her channels, thereby supporting Mrs Skorpil's work.
The story of the kestrel family is a dramatic example of the challenges faced by nature on a daily basis. We are all looking forward to the day when our baby falcons will fly away, and we continue to follow their progress with excitement.