The manufacturer Baader presents new filters for astrophotography in the spectral lines H-alpha, OIII and SII.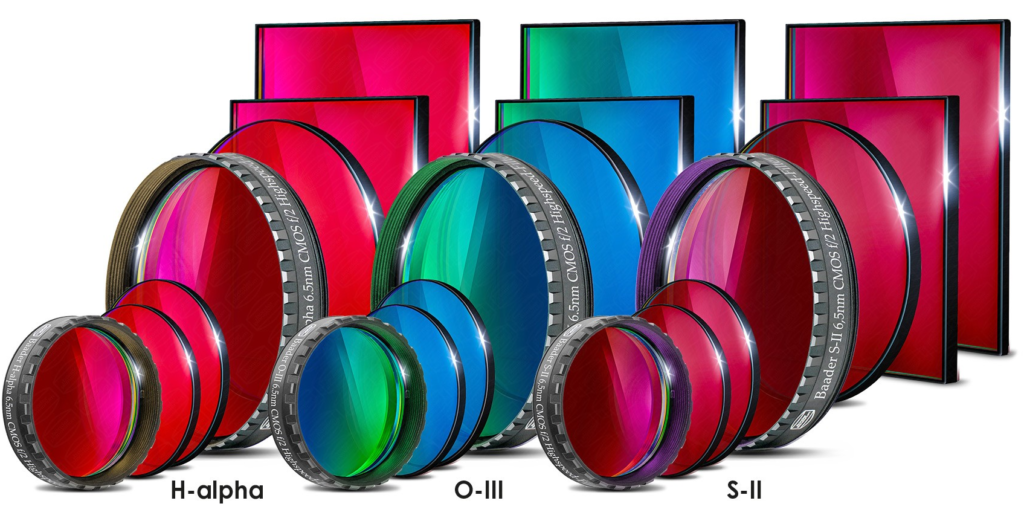 The half-width of the narrowband filters is 6.5 nanometres, and for the ultra-narrowband it is as little as 3.5 to 4 nanometres. The f/2 filters are optimised for very fast astrographs such as Celestron's RASA optics.
All filters are available in standard sizes:

With a line filter, astrophotography of luminous nebulae is possible even under a light-polluted city sky! These filters only allow those wavelenghts of light in which the selected celestial object shines to fall on the camera sensor. All other wavelengths are blocked. This produces high-contrast images of planetary nebulae, supernovae remnants and star-forming regions.
Three types of line filters are used in astrophotography, each of which is transparent to the brightest spectral lines of oxygen, sulphur or hydrogen atoms. Depending on the astronomical object, a single filter may be enough for a spectacular image. Combining three shots, each taken through a line filter, creates an ideal result.
The new generation of Baader CMOS-optimised filters is characterised by, among other things:
Reflex-Blocker™ coatings, for maximum insensitivity to retro-reflection from adjacent auxiliary optics, even under the most adverse conditions.
FWHM on each filter category carefully designed to allow for 1:1:1 exposures, matched for typical CMOS quantum efficiency and S/N ratio.
Blackened edges all around, with filter-lead-side-indicator in the form of a black frontside outer rim, to additionally eliminate any reflections due to light falling onto the edges of a filter.
Each filter is coated individually, with sealed coating edges.
Life-Coat™: Hard coatings to enable a non-aging coating for life – even in the most adverse environments.

You can find all the new filters here in the shop.