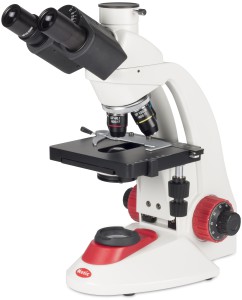 We proudly present a microscope series which is not available from too many sources: The RedLine from Motic.
With their RedLine series, Motic has concentrated on the essential: the optics.
There is no 1240x magnification of a specimen with a resolution so low that the only thing magnified would be an empty image. Everything is available in a reasonable manner. With the most cost-effective models, a well thought-out offsetting mechanism replaces the cross table. Instead of binocular viewing, which is particularly difficult to adjust for children, the device comes with a monocular with photo tube or, indeed, an integrated camera.
Stereo microscopes, which are offered in the RedLine series with exchange lenses with 10/30x or 20/40x magnification, are particularly popular with children. The specimen stages are equipped with the patented "one touch" system. Both holding arms of the sample clip can be lifted with just one finger.
However, this is just the beginning of microscopy for young scientists. For older pupils there is obviously the binocular and the 100x magnification with immersion lens. Here the "Köhlersche illumination" makes sure that the light is precision-focussed on the specimen. Each microscope in this series is perfectly adapted to young scientists, and there are models available for any age group and application. Even the digitisation, which is indispensable in modern education, plays an important role.
Just look at the 13 models in our shop.