Hot days, cloudless nights – and our prices are melting away too. Are you about to decide on your first telescope purchase? Then take advantage of our special summer astronomy offer. For a short time only, in August, we offer you high-quality telescopes and eyepieces at great prices. So, getting started in astronomy will be even more fun than ever.
After all, there is so much to discover in the night sky this summer: the big planets Saturn and Jupiter, for example. And quite honestly: who doesn't want to stay up late in this weather, gaze at the sky and marvel at the Milky Way?
Omegon Advanced telescopes: the start of your journey to the stars
With Omegon Advanced you get attractive Newtonian telescopes with 130 and 150mm apertures. They're packed full of observing fun: the parabolic primary mirror collects plenty of light and, with it, information about the universe, and it delivers sharp images. With its dual-axis mount you can track every star, planet or distant object – simply by using the practical fine adjustment shafts. So, you can share the wonders of the night sky with your whole family.
Omegon Advanced 130/650 EQ-320 #61022, was €399 now just €339
Omegon Advanced 150/750 EQ-320 #61021, was €499 now just €429
Imagine discovering Saturn's rings or the clouds and moons surrounding Jupiter. These are the perfect telescopes for anyone who prefers to embark on their own journey of discovery, instead of simply admiring astronomy images in the media. So, why not take advantage of this chance of a reasonably-priced telescope to get you started?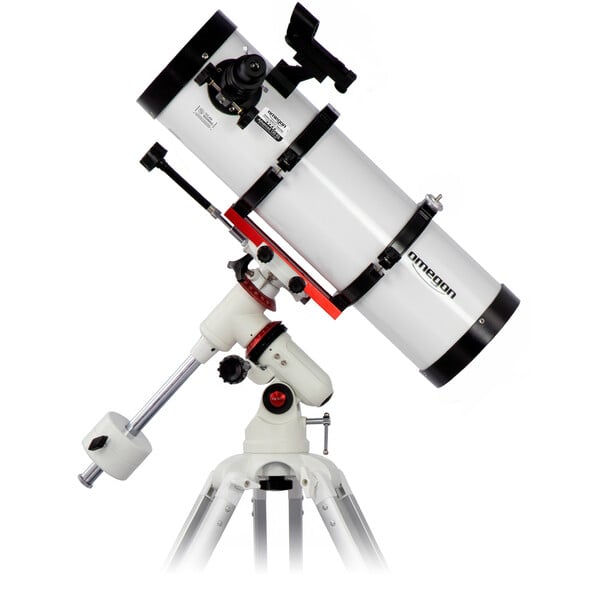 Here's some of the things you can also see with your new telescope:
– the Moon and even individual lunar craters
– The large planets Jupiter, Saturn and Mars
– The Ring Nebula, a planetary nebula that looks like a smoke ring
– the Hercules Globular Cluster or M13, a globular cluster that looks like a snowball and which is 25,000 light years away
– and much more besides
Eyepiece set: the only set you'll need to observe everything in the night sky
Who would have thought it: there's actually a whole case of eyepieces for your telescope? But the best thing about it: you don't have to spend time working out which eyepieces and filters are right for you. Instead of sitting in front of your computer screen for hours trying to decide, simply choose a complete set – giving you time to make the best of the hot weather at the beach. How does that sound?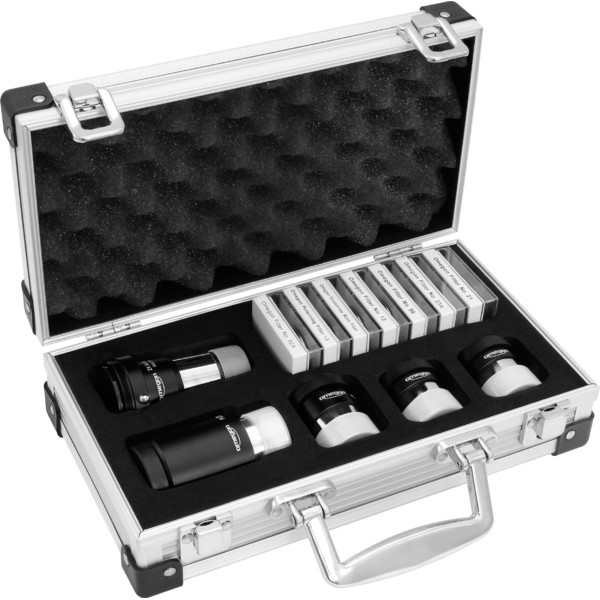 Our Omegon eyepiece sets are available in three versions with different features.
The starter set: with 2 eyepieces, Barlow lens and 3 filters, in a storage box, #49758, was €79 now just €69
 The medium set: with 4 eyepieces, Barlow lens, 6 filters and 1 Crystal View moon filter, in a sturdy aluminium case, #8353, was €189 now just €169
 The large set: with 4 eyepieces, Barlow lenses, 5 filters, moon filter and camera adapter, in a sturdy aluminium case, #23754, was €229 now just €199
Which case is best for whom? Choose the small set (49758) if you have a small telescope and want to quickly expand your accessories. The medium and the large cases each offer a 32mm Plössl eyepiece for views of the Milky Way, nebulae and galaxies. And a 6mm Plössl eyepiece to more closely observe the planets Saturn and Jupiter. From mid-August, a moon filter is the perfect tool for your telescope, because it reduces the brightness of the moonlight.
Combine a telescope with an eyepiece kit and you're all set for hours of observing fun. You can save as much as €100 on your purchase (150mm telescope + large eyepiece set). But don't miss out: these prices are only available in August.
So why not become a celestial observer this summer. The starry sky has plenty of surprises in store for you!