Product series: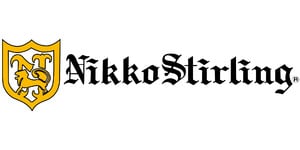 Nikko Stirling solely produces optics for hunting and shooting sports. With its current product range, Nikko Stirling offers optics that meet the demands of hunters and sports shooters around the world.
The company can reflect on more than fifty years of tradition, in which advances have been characterised by the personal experiences of the designers in hunting and shooting sports. This experience, combined with selected materials of the highest quality, guarantees that the requirements of hunters and sports shooters are met. For hunters, the Diamond range of products offer a broad choice. Sports shooters also have a diverse range to choose from, from the Mount Master to the Diamond riflescopes.
More about Nikko Stirling
It is its hunting tradition that differentiates Nikko Stirling from its competitors. No glasses, cameras, microscopes or jewellery are produced. Nikko Stirling specializes exclusively in hunting optics.
The company philosophy is to equip hunters and target shooters with the optics they need for succeeding in their sport. That has been the goal since 1956. Today's Nikko Stirling product range is the result of continual development, and answering the challenges of hunters worldwide.
In 2006, Nikko Stirling proudly celebrated the 50th anniversary of its founding by Malcolm John Fuller (1924-1994). Born in Australia, Malcolm Fuller gained early experience in firearms and hunting on Australian farms, where wild boars, deer, goats, foxes and rabbits abounded.
This early experience, followed by his lifelong big game hunting experience, provided Malcolm Fuller with a tremendous amount of hands-on knowledge that was fundamental to the development of the Nikko Stirling telescopic sights.
At first, the optical production facilities that emerged in Japan in the 1950s were used, which is why Malcom Fuller founded the Stirling Scope Company Ltd. in Tokyo. From there, the telescopic sights were exported to Europe, Africa and Australasia.
By hunters for hunters
Few other telescopic sight manufacturers can claim truthfully that their roots are in hunting. Most of them are only subsections of more general optics manufacturers. This difference is particularly important in the development of today's Nikko telescopic sights. Practical experience is incorporated into the models and combined with the highest quality to meet all the needs of hunters.
The range of Nikko telescopic sights offers a great choice for any firearms enthusiast. Experienced hunters will have their eye on the Diamond range, while beginners may prefer the Mountmaster range.
Nikko Stirling is a registered trademark of Nikko Stirling International Trading Shanghai Ltd.